I'm Going to CTN eXpo Under My Own Power
A Career Opportunity Challenge
Sponsored by the Creative Talent Network in Association with Arludik Gallery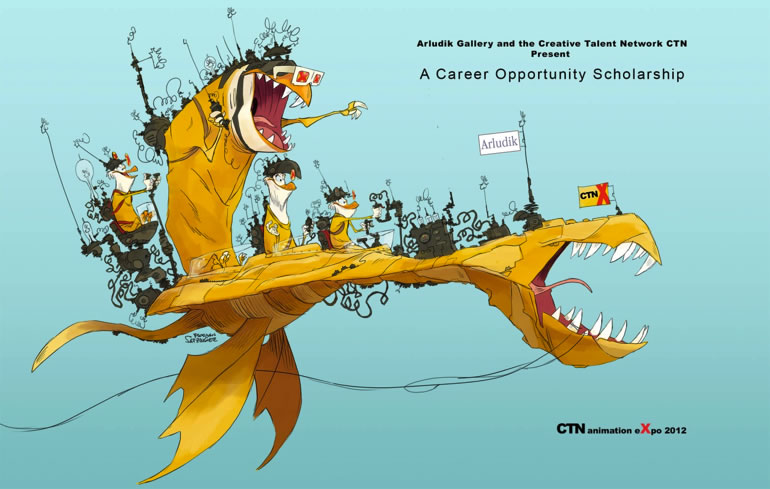 Artwork by: Florian Satzinger
Challenge powered by Arludik Gallery in France and the Creative Talent Network in USA.
The association between CTN and Arludik Gallery creates a strong creative conduit between the U.S. and European animation talent markets, paving the way for artists to connect, find jobs, and inspire those currently looking to enter into this profession. Early plans include shared gallery events, with additional opportunities for international talent recruiting and talent recognition reviews and workshops. This year, Arludik Gallery will be hosting a panel of talent at the eXpo® in support of some of the latest animated film releases coming out of Europe.
Their first collaboration is the Arludik/CTN Career Opportunity Scholarship challenge, "I'm Going to CTN eXpo Under My Own Power!" giving some promising new talents from the animation community in France the opportunity to come to the "Animation Capital of the World" in the USA to the eXpo®  and have their talent introduced and showcased to the American Market.
Participating schools France are:
ArtFx
Arts et Technologies de l Image ( ATI)
Ecole Emile Cohl
Ecole Georges Méliès
Ecole nationale supérieure des Arts Décoratifs
EMCA
ESAAT
Gobelins l' école de l image
ILOI
Institut Sainte- Geneviève
ISART digital
La Poudrière
LISAA
Supinfocom Arles
Supinfocom Valenciennes
INTRO AND ELIGIBILITY: The Arludik / CTN Career Opportunity Scholarship is open to animation and media arts students of France, who are 18 years of age or older as of October 10, 2012, and are either a current student or recent graduate from those schools listed above during and within 2 years of October 10, 2012, and have not worked as a professional in the field of animation, illustration, media arts and video games. Employees of Arludik and CTN are not eligible.
HOW TO ENTER:  Create a single piece of finished digital artwork that describes the story, a character or the location /environment through storytelling and design for the concept entitled "I'm Going to CTN eXpo Under My Own Power!".  Whether a  vehicle, a rocket, the wizard of speed and time or time travel. Artwork must be a final piece of digital art and be submitted through the CTN upload page in .jpg format and cannot exceed the size of 1024 x 1024.  All artwork must be received by 11:59 p.m. PST, November 1st, 2012.
ENTRY REQUIREMENTS: All artwork must meet the following guidelines:
The entry must not exceed 1024 x 1024 and in .jpg format.
The entry must design the elements of either Alice, the Rabbit, the Mad Hatter or the location/environment or a composition including all three characters in the environment visually describing the Story of Alice in Wonderland in the Year 2055 and include your name clearly in the lower right corner.
Artwork must  be uploaded to http://recruiter.ctnanimationexpo.com/login.php on or before November 1st.
PRIZES: One (1) Grand Prize: Round trip coach airfare from France to LAX not to exceed $1,200 plus, limo driver pick up and return from LAX to hotel and back,  up to 5 room nights at the event hotel, one (1) New Talent Table and one (1) full 3-day event passport to the CTN animation eXpo all awarded in the form of a flight ticket and registration and reservation number.  Can not be exchanged for cash.
WHAT YOU ARE JUDGED ON: The judges will select the winners on the basis of technique and skill, originality and creativity, entertainment appeal, and story telling and design in regards to the depiction of the theme "I'm Going to CTN eXpo Under My Own Power!".
RULES: http://creativetalentnetwork.com/events/UnderOwnPower_rulesV2.pdf
—
CTN animation eXpo has gone mobile!
CTN animation eXpo now has a guide on Guidebook! Improve your experience by taking the schedule, maps, Twitter and more with you on your phone or mobile device. Available for iOS, Android, Blackberry and web-enabled devices, completely free. Get it for your device now.
Online Disclaimer:
Sponsors are not responsible for technical failures of any kind. If for any reason the promotion is not capable of running as planned Sponsors reserve the right, in their sole discretion, to cancel this promotion. No responsibility is assumed for any errors, omission, interruption, delays in operation or transmission; or any problems or technical malfunctions of any telephone network or lines, computer online systems, servers, providers, computer equipment, or software including failure of any e-mail or electronic entry to be received on account of technical problems or traffic congestion on the Internet or at any Website, or any combination thereof.
Tags: Career Opportunity