Act 1: The Story Begins
Title: Act 1: The Story Begins.
Hosted by The Creative Talent Network
Length 45min
Join this eclectic group of professional story artists as they take us step by step through the world of creating visual stories. The challenges they face and the inspiration that drives them. Do they simply illustrate scripts? How do they work with the writers? How much input do they have? What is their relationship with the directors? At the end of the day who wrote the story, the board artist or the writer? Let's listen in on this round table discussion with animations leading story artists in Act1: The Story Begins.
—
–

Moderated by Bruce Morris started telling stories to his parents when he was a child. Occasionally, some of them were even true.
Afraid of anything that smacked of real work, Mr. Morris learned to draw and how to tell stories visually.  This launched his career at the Walt Disney Studios as an animator, and he subsequently used his unique visuals and storytelling ability to get into the Disney Animation Story Department.
Believing firmly in the "Poetry of visuals" and the "Character of dialogue", to date he has been a key writer and visual storyteller on over fourteen animated features including The Great Mouse Detective, The Little Mermaid, Pocahontas, Hercules, Spirit Stallion of the Cimarron, Finding Nemo, Curious George, Planet 51, and The Princess and the Frog.
In addition to his feature work, Bruce has written, produced and directed for animated television series and is currently working on the young adult fantasy book cycle Dimitri's Garden and writing an animated feature, Betty 99.
He is an alumni and past professor of Story Development for California Institute of the Arts and a member of the Animation Writers of America and the Motion Picture Academy of Arts and Sciences.
-
Enrico Casarosa
lives in San Francisco, making a living as a storyboard artist at Pixar Animation studios. He has been in the animation industry for over 10 years drawing storyboards for animated feature films. He no longer lives off pasta and japanese cartoons as he used to back in italy. Sadly, while he still watches the occasional anime, he developed a wheat allergy. Quite a tragic occurence for an italian. He recently published a book with Tadahiro Uesugi and Ronnie Del Carmen "3 Trees and 3 Flowers". He is also the founder of "SketchCrawl", a world wide sketching marathon event
.
-
Panelist Louie Del Carmen
Born and raised in the Philippines, Louie del Carmen is a veteran character designer, storyboard artist, board supervisor and director having worked at most of the major studios in Los Angeles.  In his 15 plus years in the animation industry, Louie has garnered a reputation as a consummate professional with a tremendous artistic range as demonstrated by the diversity of his show credits which include RUGRATS, INVADER ZIM, KIM POSSIBLE, LILO & STITCH: The SERIES, THE GRIM ADVENTURES of BILLY and MANDY, DRAWN TOGETHER, TOMB RAIDER: RE/VISIONED and The MIGHTY B.
Since 2007 he has been a feature story artist at Dreamworks Animation in Glendale, California where he has worked on KUNG FU PANDA: SECRETS OF THE FURIOUS FIVE and the upcoming KUNG FU PANDA 2: The KABOOM OF DOOM, as well as other current studio projects.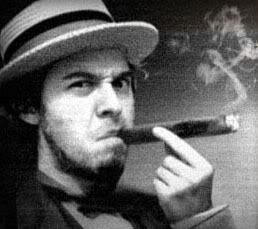 Panelist Alex Hirsch seen here smoking a cigar made from endangered panda skin, is a feared and loathed titan of industry who once called Chuck Jones a communist to his face and won a drinking contest against a champion racehorse.
Actually, Alex Hirsch is a 25-year old writer, board artist, and director who has done story work for Cartoon Network, Laika, Disney TV, Pixar, and JibJab. His career highlights include pitching bad puns to John Lasseter, touching Weird Al Yankovic's hair, directing two pilots, and providing the voice of a female clam for Disney TV's "Fish Hooks." Currently he is wrapping production on the pilot for his first TV series, "Gravity Falls", which, according to industry gossip, is going to be the greatest show ever made in the history of television. (And that includes Man Vs. Food)
In his spare time Alex enjoys posing for black and white pictures and writing biographies about himself in the third person.
Panelist Fergal Reilly was five he had his imagination ignited by a master storyteller, his grandmother. She would sit by the fire and tell the 'most amazing ghost stories ever.' He learned from her that the best storytellers search the mists of the imagination and are not afraid to get lost. His grandmother also gave him his first book of magic.
He remembers drawing characters and stories on the back of old used typing paper his mother would bring home from the office, and tearing open cereal boxes creating dioramas with a 'bic' pen for his fantasy cardboard characters.
Fergal arrived in Hollywood from Ireland at the age of nineteen to work as an inbetweener and animation apprentice for the Disney feature The Rescuers Down Under. Since then he has worked as an animator, designer, director and story artist in live-action, traditional and CG animated feature films.
He has worked as a storyboard artist for Walt Disney Pictures, Warner Bros, and Sony/Columbia Pictures, with such directors as Sam Raimi, Brad Bird, Jon Favreau, Barry Levinson, Rob Minkoff and the Farrelly Brothers.
He has also taught advanced story development at the California Institute of the Arts, and has lectured on visual storytelling at the Rhode Island School of Art and Design and Ringling College of Art and Design.
His film credits include The Iron Giant, Spiderman 2, Stuart Little, Walt Disney's The Haunted Mansion and Cloudy With A Chance Of Meatballs. Fergal currently works as head of story and director in development at Sony Pictures Animation, and he still performs magic.
Tags: 2010